If you are managing an office, retail store, café, bar or restaurant, the physical presentation of your space can make or break a first impression. Keeping a business clean and presentable is important for the satisfaction of your customers, clients, and staff.
Window cleaning is often a neglected element of business cleaning. Dirty or dusty windows and frames are unappealing and might give off the impression that the interior of your business is unclean, too.
In this update, we highlight some of the main benefits of professional window cleaning.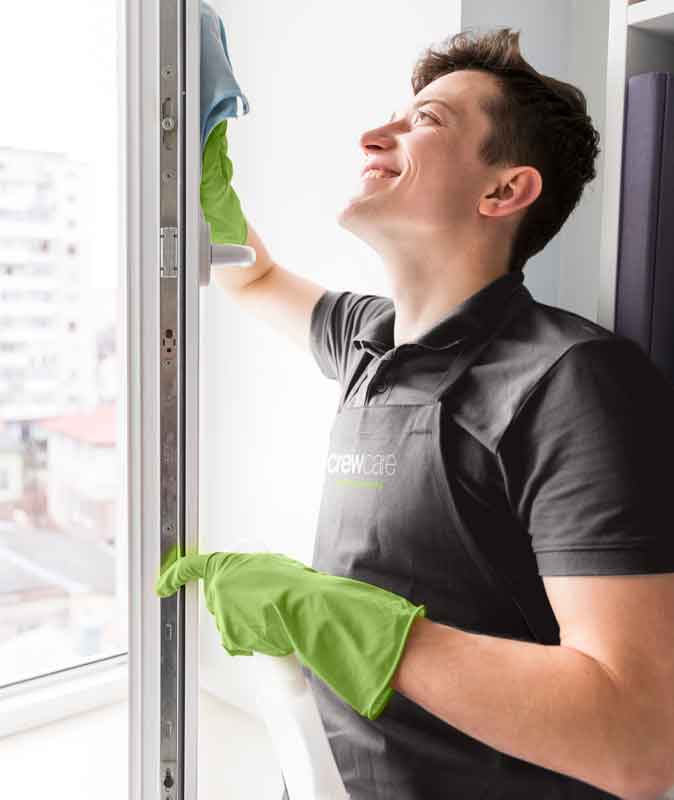 Get better results
It might be tempting to DIY your window washing, but professional cleaners will get you a much better result. Not only do they have specialist experience, but they also have the proper products and equipment.
Using the right gear will have your windows looking their absolute best, and it will also prevent any damage caused by improper cleaning products. For example, some types of glass are susceptible to damage from ammonia-based cleaners. Leaded and stain glass windows can become permanently clouded by these products and cannot be repaired – meaning you'll be out of pocket to replace your windows.
Professional cleaners also have access to ladders, scaffolding, and telescopic tools, meaning they can clean all the windows that are typically out of reach or too awkward to get to.
Keep your building in good shape
A well-maintained building is essential for any business. First of all, it looks better. It might seem superficial, but people do tend to judge books by their covers! If the exterior of your building is not in great shape, clients and customers are less likely to come inside and utilise your goods or services.
Debris and dirt build up on windows over time and can cause irreversible deterioration and damage. It can cause scratches and imperfections to the glass, which could lead to breakages and deformities.
A building is also a huge investment, and not looking after it will cost you a lot more money in the long run. A lot of businesses rent their buildings, too. Some landlords might provide window cleaning services as part of the contract, but many won't. Properly maintaining windows and addressing any problems early might save you owing extra money to the landlord for repairs or damages.
Save time
It can be hard to find time for everything with our increasingly busy lives. Running a business can be hectic. It's worth considering whether it is better to outsource some tasks, and which tasks those might be. Cleaning is a great option for outsourcing. Professional cleaning services are cost-effective when compared to how much of your own time and energy would be exerted on it. Window cleaning, in particular, is a time-consuming and demanding job. Let the experts take care of it for you!
Stay safe
Commercial window cleaning often requires working at heights and/or using ladders and scaffolding. There are a lot of health and safety considerations and risks, so it is better to have it handled by a professional. This means that neither yourself nor your staff is being put at risk of falling or being injured.
A professional window cleaner also has the experience to know when the weather conditions are right to complete the work. During wet, windy, or frosty days it can be very unsafe and lead to injuries. Cleaning windows without professional experience could also increase the likelihood of broken windows or misuse of cleaning chemicals.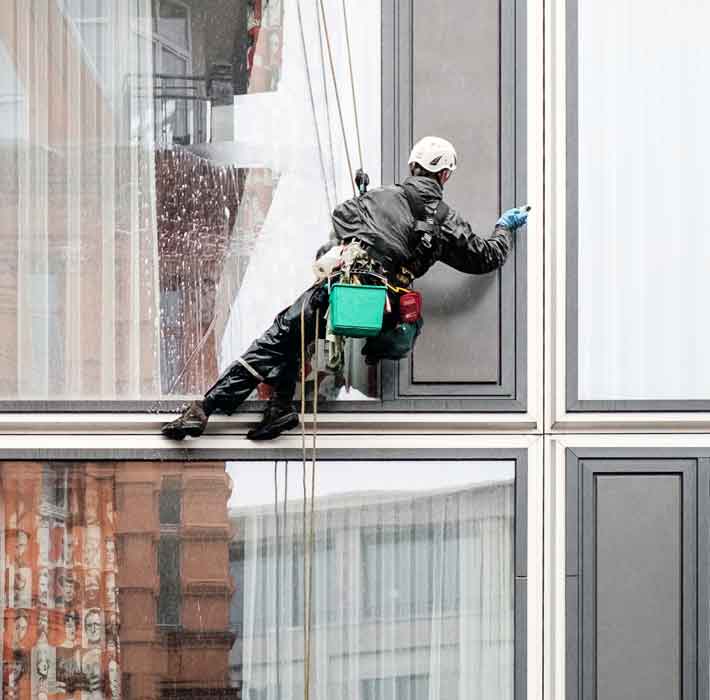 Find window issues early
It's always good to be proactive! If no one is routinely checking up on the state of your windows, you could have all sorts of problems brewing away and not be aware of them.
A professional window cleaner can alert you to issues like damaged windows or sills, rotting wood, pitting left behind from someone welding, or incorrectly fitted window screens. Finding these problems early means you can nip them in the bud before they become health and safety issues or become very costly to fix.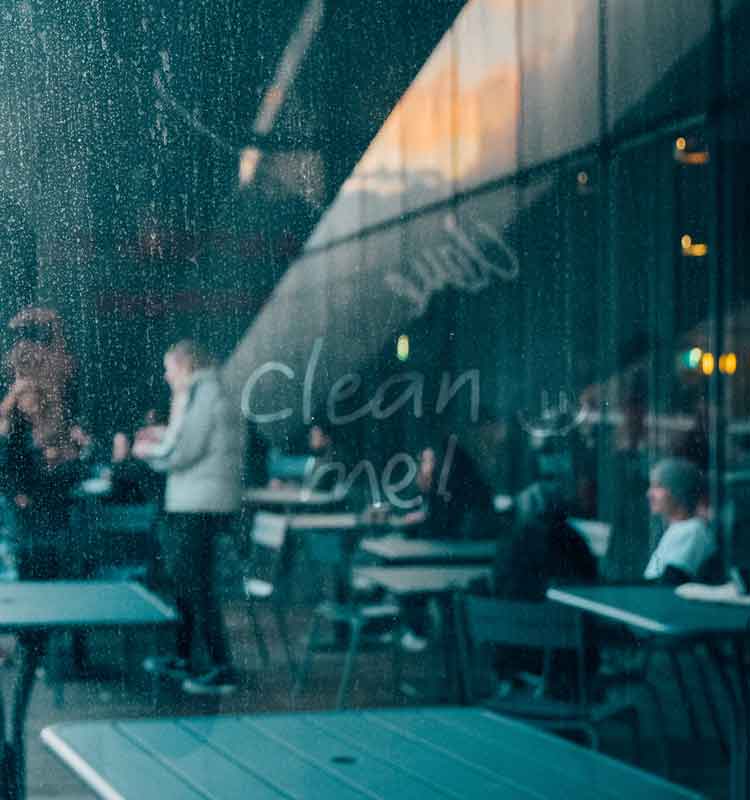 Remove or prevent bug infestations
It is common for spiders and insects to make homes for themselves in the nooks and cracks of window frames. While this is relatively harmless most of the time, you probably wouldn't want to risk an infestation of bugs taking hold of your working space. Wasps have also been known to build nests around windows and shutters.
Regular professional maintenance and cleaning of all windows keep these areas free from infestations, or they can alert you to existing issues, which can then be addressed early.
Make window cleaning a part of your regular cleaning schedule
The best way to keep your windows maintained and in great shape is to clean them regularly.
Crewcare offers professional window cleaning services for cafes, bars, restaurants, schools, and offices. Our services also include floor cleaning, sanitising bathrooms, cleaning external areas, spot cleaning walls, and we can even supply or restock your bathroom supplies! Contact us today to find out more about what we have to offer your business.