The Crewcare System
Crewcare has developed over many years, a highly successful business system that promotes the highest standards of service, and the smooth running of the business at franchisee, regional, and national level.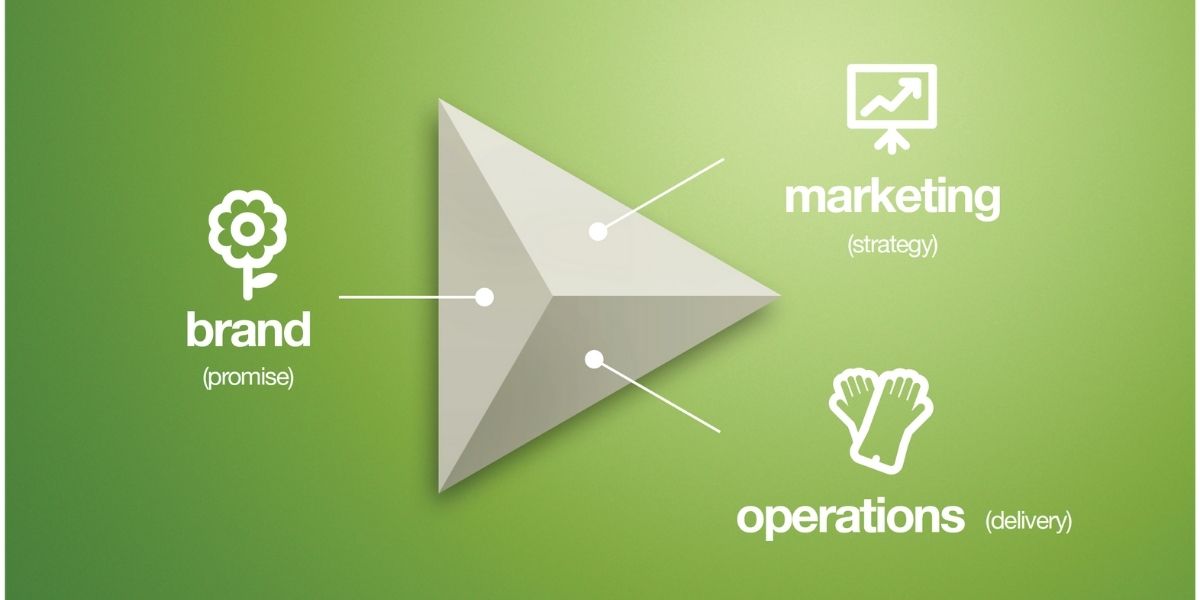 The Crewcare system is made up of three main components; brand, marketing and operations. These three form the "triangle of power" that makes Crewcare one of the best service franchise systems in New Zealand.
Brand
At Crewcare, we believe that branding isn't just about a fancy logo or a uniform, it is about an entire culture. It's about what we do day in and day out to uphold our commercial cleaning company's reputation. Branding is the cornerstone of success in the commercial cleaning industry. It encompasses the values, quality, and consistency that define a company's reputation. Crewcare engages the very best support staff and regional leaders to ensure that the brand maintains its reputation and strength. This protects new and established franchisees, as well as ensures that your business if the time comes to sell, will retain or increase in value.
We also offer cleaning franchise opportunities - when you buy a Crewcare commercial cleaning business, you immediately become part of a brand that has an impressive heritage and a reputation that is the envy of our competitors. A brand that carries weight and commands trust in the market. Joining Crewcare means aligning yourself with excellence and positioning your business for growth and success.
Marketing
Commercial cleaning is a competitive industry and Crewcare is always looking for additional business. Effective marketing plays a vital role in driving business growth. At Crewcare, we understand the importance of reaching potential clients and standing out from the competition. As such, we utilise many forms of media and marketing to spread our identity, enhance our reputation and attract new business opportunities. This includes traditional methods such as pamphlets, yellow pages, radio, and newspapers. We also engage in the latest digital marketing trends by use of Google AdWords, banner ads, and social media.
The regional directors are established business people in their own right and have extensive networks of contacts that lead to new business referrals. We believe one of the best forms of marketing is referrals (word of mouth about a job well done). We prioritize delivering exceptional service and exceeding client expectations, which naturally leads to satisfied customers spreading the word about our quality cleaning services. With our established systems, all it takes is a desire to work hard on your part, and our reputation is only enhanced at a local and national level.
Operations
We value the importance of keeping existing customers satisfied. It is far easier to keep an existing customer than to find a new one. In order to ensure we retain our clients, Crewcare has developed operations guidelines and customer support systems to ensure that your clients are always happy.
Our proven cleaning systems and methods, when followed, will guarantee that you maintain a high level of customer loyalty and ensure the growth of your business. Of course, these systems only work if you stick to them. Our support office will provide all the support and advice you need, but you must be prepared to work within the guidelines we set out. If you don't, you risk losing customers and income through poor performance.
Our operations team carries out regular customer satisfaction surveys and quality checks to ensure that any problems are ironed out before they become serious, and to continuously improve our services. Our commitment to quality is reflected in our ongoing efforts to maintain high standards and provide a seamless cleaning experience.
Franchise System
By definition, franchising is a business system that allows individual owner-operators to run their own businesses within the framework of a proven business concept. This means that as a franchisee of Crewcare, you have the opportunity to establish and operate your own business while benefiting from the support and guidance provided by the franchisor
The franchisor (Crewcare) has developed a unique and proven business system that sets the foundation for your success. This system encompasses a range of operational strategies, marketing techniques, and industry best practices that have been refined over time. By joining the Crewcare franchise, you gain access to this wealth of knowledge and expertise, positioning yourself for growth and profitability in the commercial cleaning industry. The franchisee (you) is offered the right or licence to operator the system under a common trademark and according to clearly defined guidelines. This means that you can leverage the established brand recognition and reputation of Crewcare, giving you a competitive edge in the market. The clearly defined guidelines provided by the franchisor ensure consistency and adherence to the brand standards, maintaining the integrity of the business and enhancing customer trust.
The franchisor may agree to provide a range of business support services designed to assist franchisees in various aspects of their operations, such as operating systems, administrative support, training, and quality assurance programs.
This support is intended to ensure the continuing success of the franchisee, and the group as a whole.
In return for this licence, the franchisee pays an establishment fee in order to set up the business, and a royalty on all income earned from the business. This royalty contributes to the running costs of the regional support office, support staff and marketing.
By becoming a franchisee of Crewcare, you not only gain the freedom and autonomy of running your own business but also the security and support of an established brand and proven system. The franchisor's commitment to your success, through the provision of comprehensive support services and adherence to clear guidelines, sets you up for long-term growth and profitability. Take the leap into franchising with Crewcare and unlock your potential in the commercial cleaning industry.