Specialised Deep Cleaning Service for Your Business
Regular cleaning is not always enough to remove all of the dirt, grime, and bacteria that can accumulate over time. This is where specialised deep cleaning services from Crewcare can come in handy.
This specific service is ideal for healthcare facilities, as well as non-healthcare premises such as schools, offices, fitness centres, government buildings, and restaurants that may be in need of some extra attention. A deep cleaning is a more comprehensive type of cleaning that goes beyond the routine tasks of sweeping, mopping, and dusting. It involves using specialised equipment and techniques to clean all surfaces and areas of a workplace, no matter how difficult to reach.
This unique service creates a positive impression on customers and employees alike and is also an ideal precautionary measure to help stop the spread of germs and infectious diseases. A clean and hygienic workplace is essential for any business to motivate and protect its employees and visitors.
If you would like additional services outside the current service levels, such as more frequent cleaning, touchpoint cleaning, and deep cleaning for high-traffic areas, please contact your dedicated Crewcare account manager.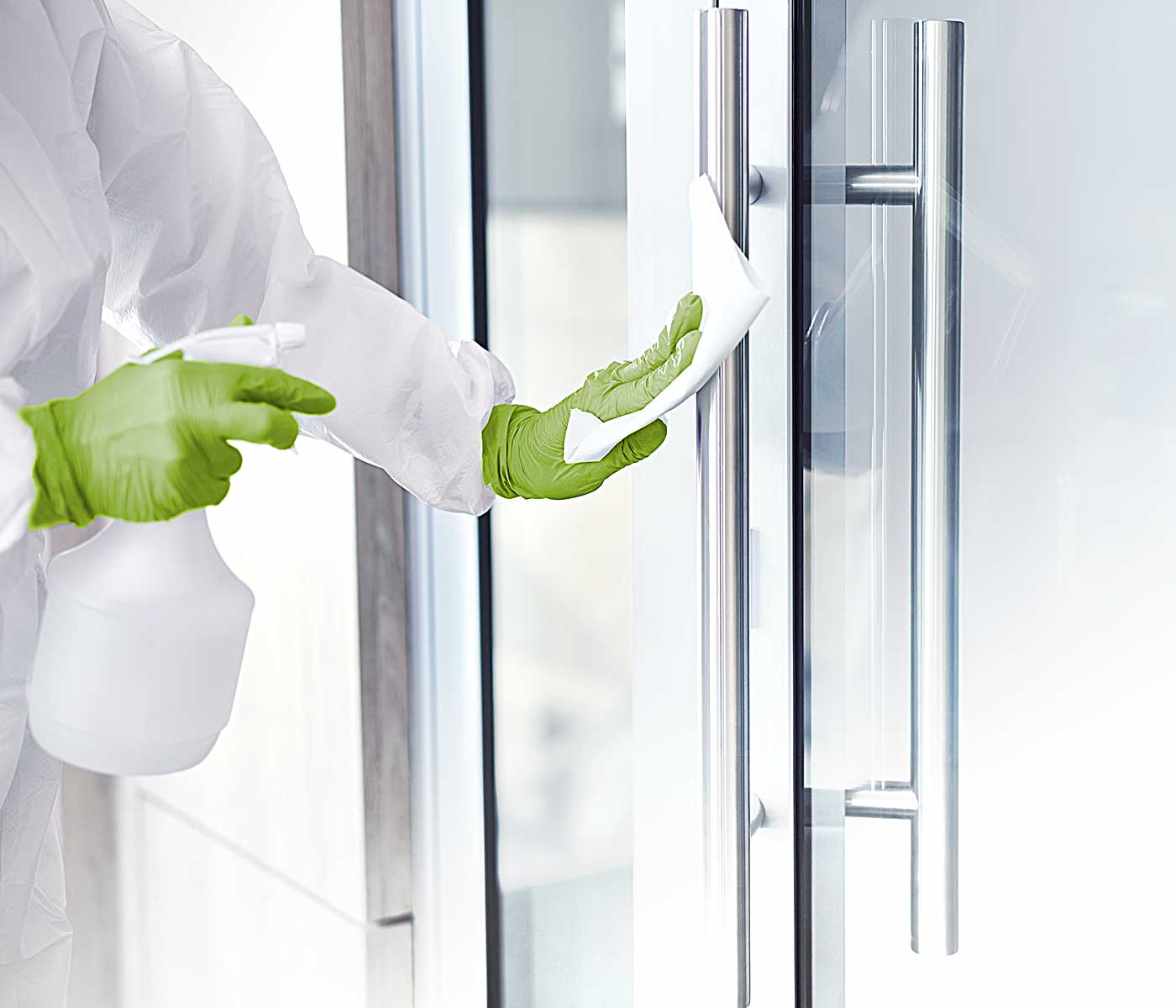 Get our COVID-19 cleaning info pack
Find comprehensive information on cleaning for infection control
Specialised Deep Clean 1
Cleaning and disinfecting all touchpoints at a site with appropriate PPE including door handles, switches, taps, doors, and floors
Complete standard cleaning of premises
No closure required and work is carried out at the client's requested interval or frequency
All touchpoints sprayed with sanitiser
Floors and soft furnishings vacuumed
Specialised Deep Clean 2
Cleaning and disinfecting all Specialised Deep Clean 1 areas and everything up to two (2) metres high including walls, glass, and under furniture with full PPE
Includes entrance, foyer, reception, office areas, meeting rooms, stairs, and corridors
Kitchen and lunchrooms are also covered
Toilet areas included With extra precaution taken if the area is possibly high-risk or infected with bacteria or virus
Involves closing off areas visited or frequented by people
Please note that these guidelines are focused on commercial or non-commercial areas, community, non-healthcare facilities, schools, offices, restaurants, fitness centres, gyms, warehouses, government buildings, daycare centres, community centres, etc. We clean surfaces including all hard (non-porous) and soft (porous) ones, all touchpoints, electronics, furniture, and other areas per the client's requirement. In both levels, we remove dust or any waste or debris followed by deep cleaning using EPA-approved chemicals.
Our Precautionary Cleaning Process
Our two-tier specialised deep cleans 1 & 2 feature our precautionary cleaning service offerings that aim to improve the likelihood that viruses and germs won't spread and that people have lesser chances of catching them from contaminated surfaces and via airborne transmission. While they do not guarantee elimination, it's an extra level of safety for existing clients.
Our Experience as a Cleaning Company
Our cleaners are not only experienced; they also have all the necessary personal protective equipment or PPE to ensure compliance with standard health and safety protocols.
We also have decades of experience in services related to deep cleaning, covering areas such as carpet cleaning, mould removal, floor polishing, window cleaning, and environmental clean-up.
We cover your stringent cleaning requirements by using the latest equipment and technology, following H&S and environmental standards with regards to cleaning products, and conforming to the Ministry of Health directives on preventive cleaning.
The Benefits for Your Business
There are many benefits to specialised deep cleaning for commercial businesses, including improved hygiene; the extended lifespan of assets such as furniture, carpets, and flooring; a more inviting appearance; increased productivity of your staff; and of course a safe workplace where bacteria and infectious diseases won't stand a chance to make people sick.
Deep Cleaning for Safety and Infection Prevention
Cleanliness plays a big role in the fight against infectious diseases. Coupled with sanitation, disinfection, and basic hygiene practices, people can effectively stop the spread of germs and viruses.
Specialised Deep Cleaning Services for Commercial Businesses
Crewcare offers a specialised cleaning process needed to give your business a clean and hygienic workplace and stop the spread of infectious diseases. If you're looking for a reliable commercial cleaning company with the knowledge and expertise to handle your deep cleaning infection control requirements, feel free to contact us.
Book us for a preventive deep clean
Deep Cleaning Tips and News
We write about industry developments, training, health and safety, eco-friendly cleaning products, recycling practices and advice for working with professional cleaners.