The demand for commercial cleaning services is increasing, as people become more aware of the importance of workplace hygiene. As we are now well into the throws of winter, we are in peak cold and flu season, too. At this time of year, employers need to be extra vigilant about workplace cleanliness to reduce illness among staff, which impacts morale, productivity, and business income.
If you are considering commercial cleaners for your business this winter, keep reading to find out some interesting facts about workplace hygiene, and the industry in general.
It's a booming industry
Over the last five years, there has been a steady growth in demand for cleaning services across the New Zealand market. The overall number of registered businesses and organisations has increased during this time, and many are within the mid to large size bracket. Due to the number of staff these businesses employ and the size of their buildings and offices, they contract commercial cleaning companies to keep their workplaces clean and healthy. This has contributed to the rise in demand for professional cleaning services.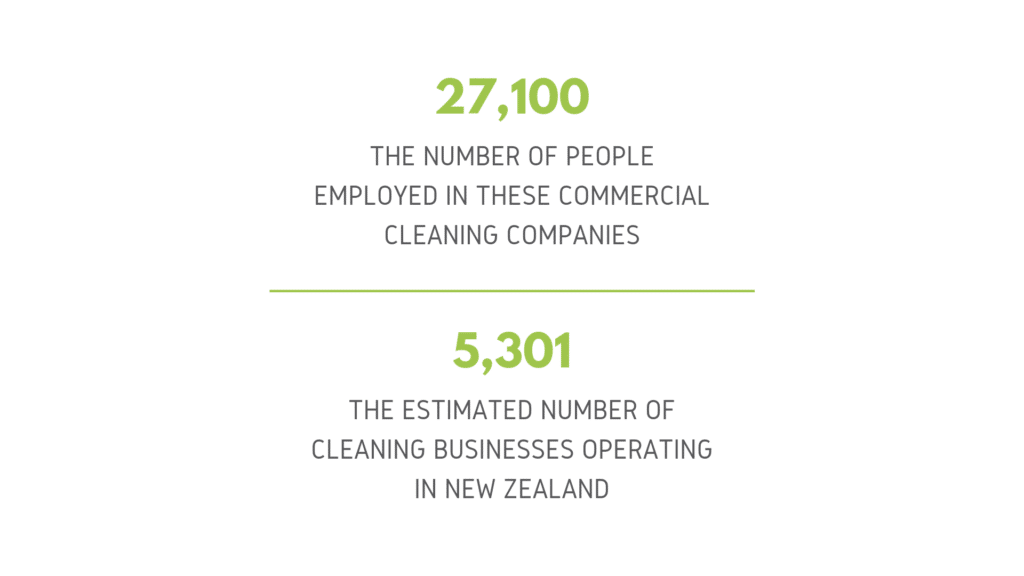 As of June 2019[1], the commercial cleaning industry in New Zealand has an estimated revenue of $2 billion, with over 5000 cleaning businesses in operation. In total, commercial cleaning in New Zealand employs just over 27,000 people.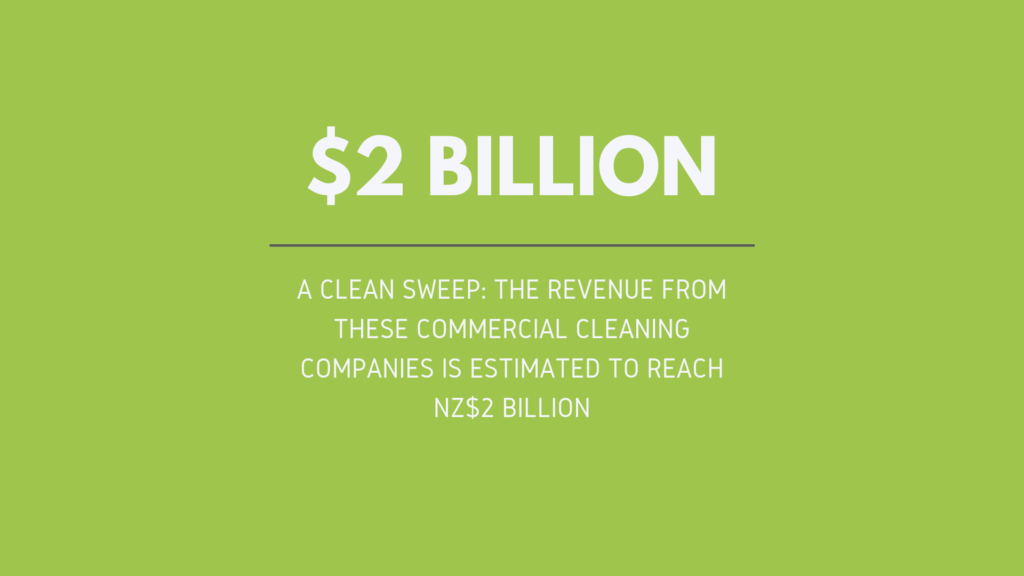 It's not the same as domestic household cleaning
While it uses a lot of the same tools and techniques and includes similar areas (surfaces, kitchens, bathrooms), extra care and precision is needed for cleaning in commercial environments.
Schools, restaurants, cafes, and offices are incredibly high traffic places. You could have hundreds or even thousands of people coming through the building or using the facilities every single day. This means the number of bacteria and dirt is a lot higher than in even the busiest of households.
Commercial cleaners take extra care and use professional-grade cleaning solutions, particularly in areas where contamination is most common, such as bathrooms and food preparation surfaces.
It significantly improves office hygiene
This might make you feel a bit unwell, but the average office worker comes into contact with about 10 million bacteria per day. 30% of people admit to not using soap or sanitiser to watch their hands, and 32% admit to not washing their hands after using the toilet! It is estimated that one person carrying a virus will infect half of the people and surfaces in their immediate area in just 4 hours![2]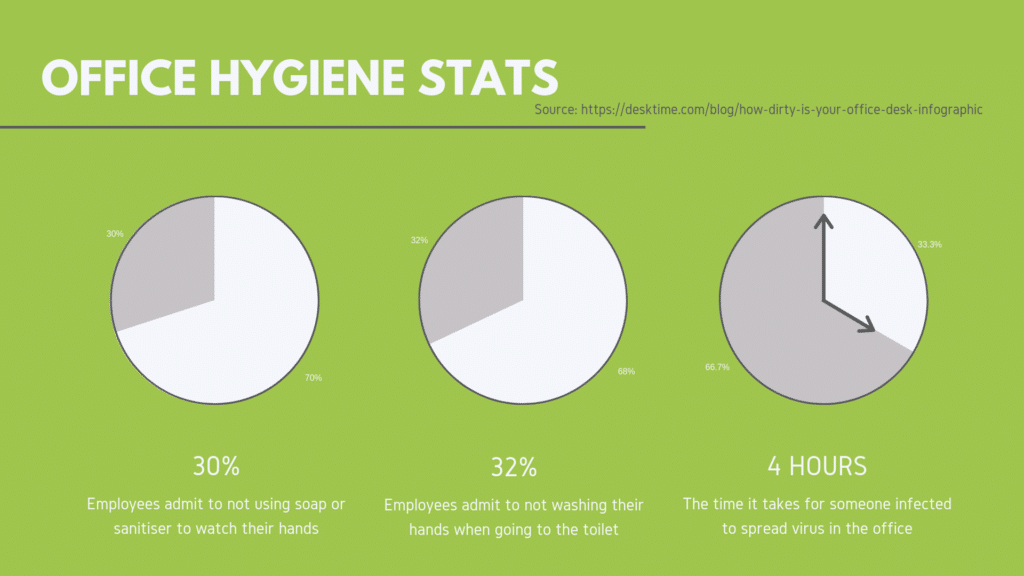 It can (and it should!) be environmentally friendly
Society is collectively becoming more aware and responsible for the impact we are having on our environment. The increase in popularity of the conscious consumer movement means that businesses need proper environmental policies in place. This serves the double purpose of ensuring they are doing their part, and that their customers won't leave to support more eco-friendly companies.
Office cleaning personnel can do their bit, too, by offering services such as recycling and green waste removal and using environmentally responsible cleaning products and techniques.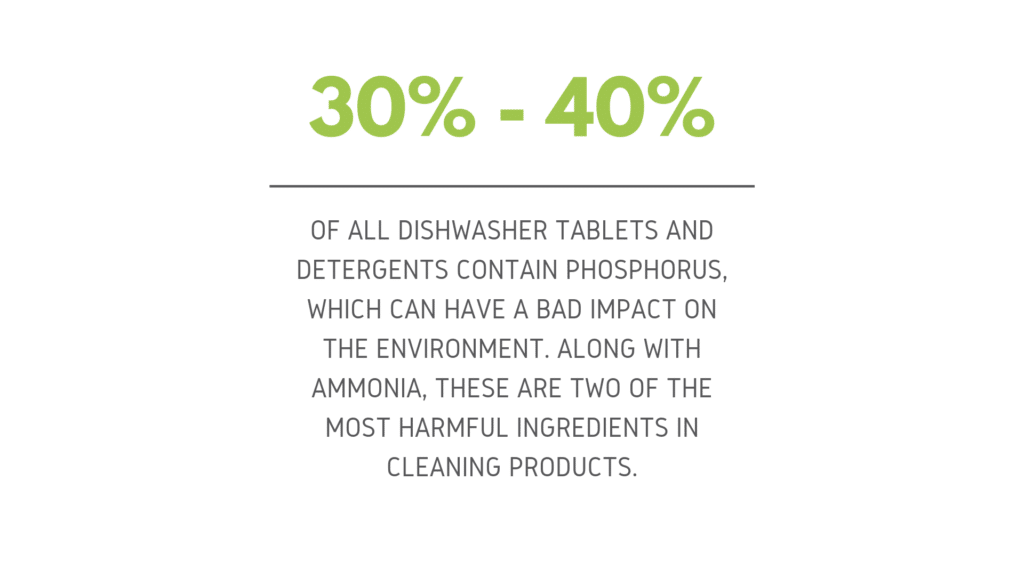 The biggest concern with commercial cleaning is the ingredients used in cleaning products, which can have harmful impacts on the environment when they get into our waterways. Ammonia and phosphorus are two of the biggest offenders – with phosphorous being present in 30 to 40 per cent of all dishwasher tablets and detergents.[3] This, of course, ends up down the drain and cannot all be filtered out by treatment facilities, so it ends up in lakes, rivers, and oceans.
Crewcare is committed to environmental sustainability and has environmentally friendly practices in place to reduce the impact that their services have on the planet. Their cleaning products are endorsed by Environmental Choice New Zealand, so they are "green" and kinder to surfaces. Crewcare supports clients' recycling initiatives and encourages the use of compostable bin liners and rubbish bags.
Crewcare also uses a microfibre cleaning system. The nature of microfibre is supportive of green cleaning initiatives because the cloth is made of a special weave that removes dirt and bacteria efficiently without excessive water or product usage. This reduces the use of chemicals and the amount of water used for cleaning, which significantly reduces environmental impact when considered on a commercial scale.
Crewcare can take care of it all!
You don't need several different cleaning companies to take care of different tasks or businesses. Crewcare offers an affordable and versatile range of services including cleaning for restaurants, cafes, schools, and office buildings. They can also provide specialist window, carpet, and floor cleaning services as part of your regular building maintenance. Crewcare offers a thoroughly trained and security vetted team of cleaning experts and has over 20 years experience in the commercial cleaning industry. Our mission is to provide you with an efficient and seamless cleaning service. Get in touch with us today to find out more about how we can help you.
References:
[1] IBISWorld. (2019). Commercial Cleaning Services – New Zealand Market Research Report. Retrieved June 30, 2019, from
https://www.ibisworld.com.au/industry-trends/nz-market-research-reports/administrative-support-services/commercial-cleaning-services.html
[2] DeskTime. (2018). The dirty truth about your office desk [Infographic]. Retrieved February 16, 2018, from
https://desktime.com/blog/how-dirty-is-your-office-desk-infographic
[3] Blue and Green Tomorrow. (2017). How Exactly Do Cleaning Supplies Affect the Environment? Retrieved November 9, 2017, from
https://blueandgreentomorrow.com/environment/how-exactly-cleaning-supplies-affect-environment/