So you're thinking of starting a commercial cleaning business? That's a great decision! More and more businesses are out-sourcing their cleaners, and are increasingly hiring external help. Aside from the concerns you'll have about finding these sort of clients, you also need to think about the main thing that will help get your cleaning done – your cleaning equipment!
Unlike residential cleaners, commercial cleaners need more industrial & heavy-duty grade equipment and cleaning solutions to get the job done. The equipment needs to withstand the demands of a pumping business. Below we've listed all of the items you'll need to have in your cleaning equipment supply.
The equipment you'll need for a commercial cleaning business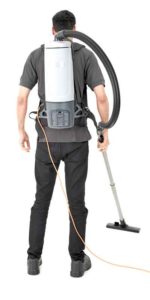 Reliable, commercial-grade vacuum
If you're thinking of starting a commercial cleaning company, you'll need a commercial-grade vacuum that truly sucks! Vacuums that you may use around the house won't be suitable in an industrial setting as they aren't intended for daily, heavy-duty use. For a vacuum that can withstand your demands, you're probably best to choose a backpack vacuum. The benefit of a backpack vacuum is that you won't have to drag it around the floor which will save you a lot of time and energy. Ensure that the vacuum has a wide nozzle, good suction and comes with an extended warranty.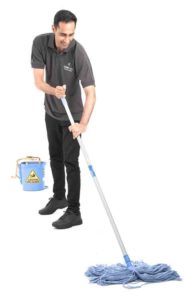 Bucket and mop
Of course you could probably invest in a floor polisher, but for 95% of your cleaning jobs, a simple bucket and squeegee mop will do the trick. You want to make sure that all lino, tiles and wooden floors look clean for your clients' return to work the next day. For any wet surfaces, make sure you always have a caution sign visible.
Dustpan and broom
Another important part of your equipment pack is the dustpan and broom. However, unlike the one you may have in your closet at home, you'll ideally have a dustpan with a long stem so you don't need to constantly bend over. It should also be a lot bigger than a traditional dustpan – so you can collect more dirt and debris from the floor.
Plenty of microfibre cloths in different colours
We advise that you have plenty of microfibre cloths, as these will be doing all the wiping and polishing of surfaces. You will also need cloths of different colours to indicate the different environments. For example, you may have blue for the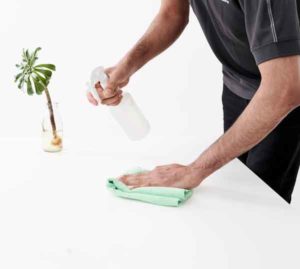 toilet, and red for the kitchen. This is super important – you don't want to transfer bacteria from the bathroom to the kitchen sink!
We also advise you to use microfibre cloths as these are better for cleaning and polishing, plus they require less cleaning solution to get the job done. This means a more environmentally friendly clean, and less product needed.
Rubber gloves
Aside from the hygienic reasons for wearing gloves (especially in the bathroom), you want to protect your hands from any kind of harsh cleaning solutions. Even if you're using gentler cleaning solutions, your skin will still slowly wear down which can cause all sorts of health issues. The best way to get around this is by using heavy-duty thick rubber gloves. Pro tip – be sure to wash these at the end of each day. Again, also wear only one pair for the bathroom, and one for areas like the kitchen. Like the microfibre cloths, you don't want the bacteria from one space being transferred to the other.
Something to hold it all in!
With all of this equipment, you'll need something to hold and transport it all in. If you're just starting out, a simple carry caddy may be all you need. As you start to expand you may need to invest in something a lot larger and with wheels.
The cleaning solutions you'll need
The second half of your cleaning business is some quality cleaning solutions. Unless otherwise required by your client, it is probably a good idea to get solutions that are environmentally friendly or sustainable. While these may cost a little more upfront, they will be better for the environment and will make you more desirable by many potential clients.
There has been a massive shift towards 'green' cleaning products as they are deemed to be safer and just as effective as their more chemically heavy counterparts. It's a huge marketing bonus if you can advertise yourself using 'clean-green cleaning solutions'.
Some of the staple solutions you'll need include:
General surface spray
Concentrate solution floor cleaner
Glass cleaner spray
Soap scum remover
Disinfectant solution spray
Where can you get this sort of commercial cleaning equipment?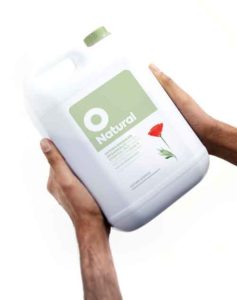 There are a few New Zealand suppliers of commercial cleaning equipment – a quick Google search will show you just a few.
One of the issues however is that this equipment can be expensive, especially if you're starting your own independent cleaning business. The cost of these products normally become cheaper if you buy in bulk – but if you're only buying one or two of each item, things can get pricey pretty quickly.
That's why joining a commercial cleaning franchise like Crewcare can be a good option. Not only will you be given great clients, but you'll also be provided with the very best equipment at super affordable prices. Crewcare has great connections with some of the biggest commercial cleaning suppliers in New Zealand. All equipment will help you clean your way to a successful, thriving business!
So if you're thinking of starting a commercial cleaning business in New Zealand, then you can't go past these important pieces of equipment. Start on the right foot and invest in quality tools that will make your job of cleaning a whole lot easier.