Do you plan on starting or joining a commercial cleaning business? If so, it will take a lot of careful planning, budgeting, and, of course, an investment in cleaning products and cleaning solutions. As a commercial cleaning franchise, one of the first questions we get asked is, "What cleaning solutions should I use in my business?" Does this sound like you? If so, don't worry. We've got you covered.
Having proper equipment and cleaning agents are key factors contributing to your new business's success. That's why we've listed some of the main cleaning solutions you should be using – and a few other handy tips for you to keep in mind.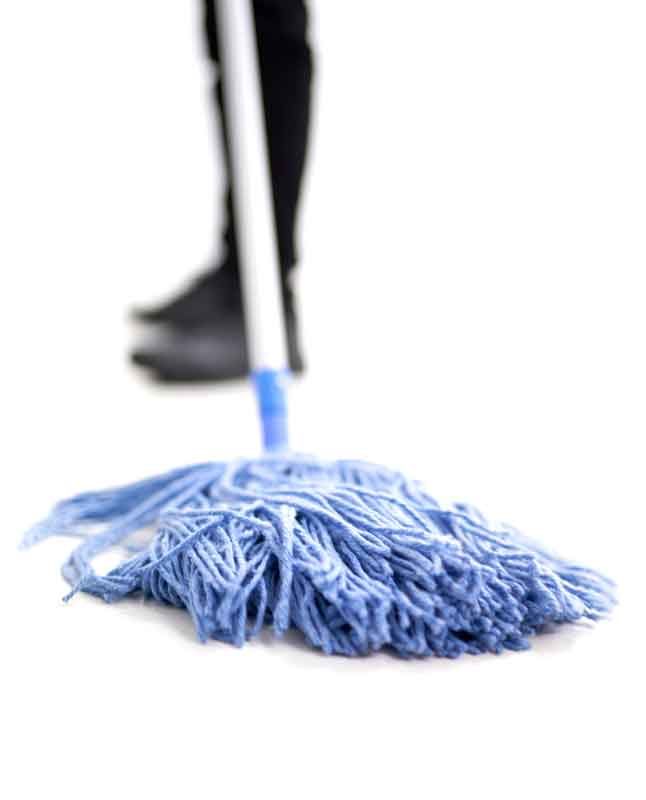 The essential cleaning solutions you'll need
There are many different types of cleaning solutions – all with their sole, unique purpose. Here are a few examples of cleaning products you'll need to have to clean a commercial space.
Glass cleaner
If you want to have smudge-free, streak-free windows, mirrors and other glass surfaces, you'll need a high-quality glass cleaner. Be sure to look for a cleaner that contains Isopropyl alcohol. Isopropyl alcohol is found in most glass cleaners and works by dissolving oil and grease.
Floor cleaner

Floor cleaners vary depending on the type of floor you are going to clean. However, there are some floor cleaners that are more effective on wooden, linoleum and concrete flooring. Be sure to check on the bottle which floor surfaces your cleaner will work best on.
Oven/grill cleaner

Your clients may have a kitchen with a stovetop and grill – which are often hot spots for grease and grime. The best cleaning agent for these surfaces are heavy duty cleaners specialised for tackling grime. Look for cleaners with ingredients with a pH over 11 (which is alkaline). These are best for tackling stubborn dirt and getting the surfaces back to squeaky clean!
Carpet spray

Clients may have a few Friday night drinks and could spill some wine and food on the carpet. Don't you just hate when that happens! With specialised carpet spray and a bit of elbow grease, you should be able to remove those stains in no time. It's an effective weapon to have in your cleaning toolbox.
Toilet/bathroom spray

For the toilet and bathroom areas, you definitely need a separate cleaning agent. I mean, think about it, you wouldn't use dish soap on your hair, or shampoo on your dishes, so why would you use the same cleaner in the bathroom as everywhere else? Look for a cleaner that says it is formulated to remove heavy-duty soap scum and grime.
General multipurpose

A multipurpose spray is effective for most surfaces, but isn't as specialised. It also serves as a good disinfectant spray – so if you're unsure if a surface is actually clean, you could put a few squirts of the multipurpose over it first so that you're confident the space is sanitary. Think places like door handles and knobs. Those places are home to hundreds of germs, so be sure to knock them out with your multipurpose spray.
What different types of cleaners are there?
Typically, cleaning solutions fall under three main categories that indicate what they're made of, how they work, and where they're most effective. Each of the following cleaners will be beneficial to your cleaning needs.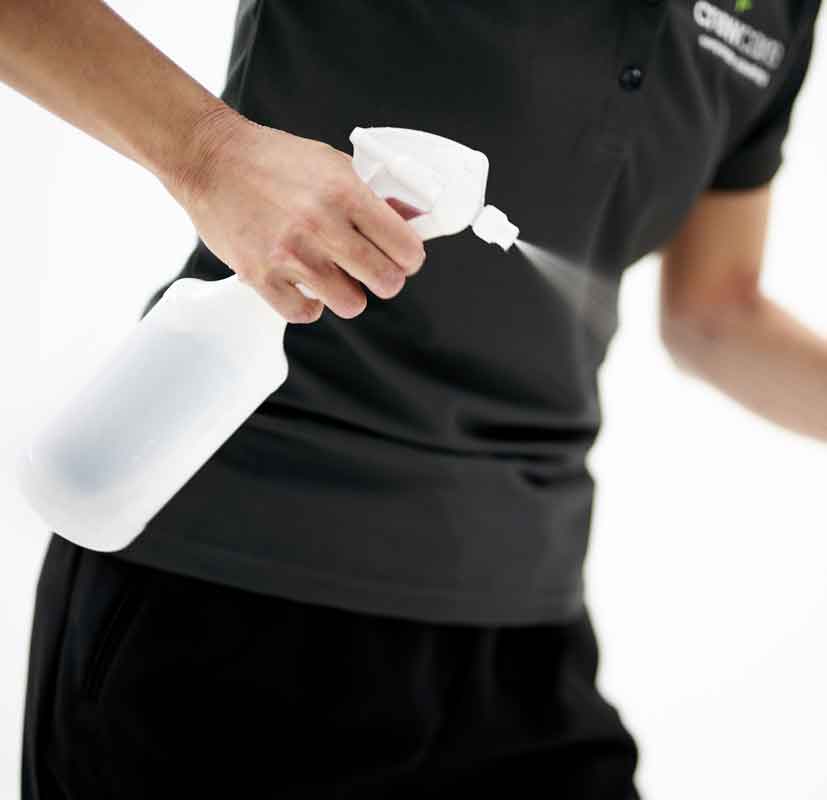 Solvent-based
Solvent-based cleaners have a major chemical at the base of the mixture. These tend to be used for specific purposes like cleaning wood, steel or other surfaces. On the other hand, they are also used as 'general all-purpose cleaners'. While it may sound more affordable to have a lot of multipurpose solutions, it really depends on the type of cleaning you're offering and the surfaces you'll be cleaning.
Water-based
Water-based, as you may have guessed it, are cleaners that have water as their main ingredient. Water-based cleaning solutions are suited to a particular environment based on its pH level. Those that are between zero to seven are considered to be more acidic, meaning soap scum or other mineral type build up will be eradicated. Solutions with a pH of between seven and fourteen are considered alkaline and are better suited at cleaning up fats and oils.
Water-soluble solvent based
This type of cleaning solution is a mixture of the previously listed cleaners. Their main ingredient is a chemical that can easily dissolve in water. These types of cleaners take the best qualities of both cleaners to create a great solution.
Safety precautions with cleaning solutions
Because all of these cleaning solutions can be fairly aggressive, we always recommend our cleaning franchise owners to wear thick gloves to save their skin. If at any point you get any of the cleaning solution in your eyes, be sure to flush them immediately with clean, warm water.
So what's the deal with enviro friendly cleaning products?
All businesses these days are under scrutiny for how environmentally friendly they are. Your commercial cleaning business is no exception. Here at Crewcare, we've noticed this trend; which is why we promote cleaning solutions that are sustainable and kind to the environment. We also encourage the use of microfibre cloths, as these require less cleaning solution – but are still very effective at cleaning and polishing.
Enviro-friendly cleaning products make you more desirable in the marketplace – with some clients willing to fork out more if they know the cleaning is green too!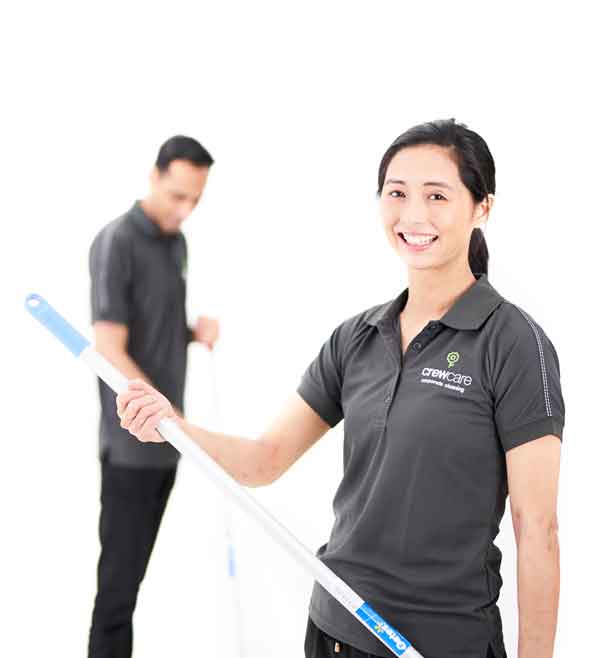 What's the benefit with a franchise?
With a commercial cleaning franchise like Crewcare, you'll receive all of these cleaning solutions at a heavily discounted rate. You'll also receive a starter package with all the cleaning equipment you'll need to get started. With all new franchisees, we also train you on how to most effectively use both the cleaning solutions and cleaning equipment. This means you'll be able to start earning from day one!
So if you're still keen to start a cleaning business, but not sure exactly where and how to start – talk to Crewcare. We have been in the commercial cleaning game for over a decade, meaning that we have all the experience to get you started. Our team is always available when you need them.
For more information on what other cleaning equipment you'll need to start your commercial cleaning business, check out our article Equipment you need for your commercial cleaning business.