When you are in the market for a professional cleaner, it pays to check out more than one option. Commercial cleaning services can vary a lot, both in price and in the quality of the work. The best way to ensure you are getting the best deal is by requesting a commercial cleaning quote from all of your potential cleaners.
So, once you have done some initial research and found commercial cleaners in your area – what questions do you need to ask them to make a well-informed decision? Let's take a look at what you need to know before selecting a commercial cleaning quote:
1. Payment terms
It's always important to check that the financial details are clearly captured in writing. This means there can be no disagreements or confusion later down the track. A complete breakdown of the costs should be provided on the quote, as well as when payment is expected, methods for paying, and when the quote expires. Make sure you are aware of any late fees or penalties, too.
Some small office cleaning services, for instance, would charge a flat rate for the usual tasks like vacuuming floors, cleaning windows, carpet cleaning, and the like. Others would charge by the office space size (by the square feet or square metres) or give discounts for long-term contracts.
It's also important to pay attention to any travel costs included in the quote. Often cleaning businesses will offer very low and enticing rates for their services, only to be made redundant by high travel fees. Don't accept a quote that has travel costs "to be confirmed", as you will most likely end up paying much more than you need to.
2. Scope of work
Something else to make sure is documented in black and white is the actual scope of work you are hiring the company to do. "Cleaning services" is not a sufficient description! It's important that a quote contains the precise breakdown of the services, and how frequently they will be carried out e.g. a one-off job, two times a week, or every fortnight.
If at any point in the future you want to change the scope of work, this should also be agreed in writing to ensure a joint understanding of what the changes are.
3. Equipment
A good quote should include any equipment or cleaning supplies that are needed to carry out the work. If you are expected to provide anything for the cleaners, this should be agreed and documented in writing.
If your professional cleaners are going to be working on ladders or at heights, this should be discussed early in the process. There are additional equipment and training considerations for these circumstances. For example if you were looking for a window cleaner, commercial cleaners are better skilled and experienced with working at heights than a residential cleaner would be.
There might also be certain requirements that you or your company have which you need to make sure are met. For example, a lot of businesses are going environmentally friendly in their practices. In that case, they would want to check with their potential cleaning providers that they use eco-friendly and biodegradable cleaners and detergents. They might also require recycling or green waste removal, which not all cleaning companies will provide. It's a good idea to ask these sorts of questions right at the start, so you can immediately dismiss any quotes or providers that aren't suitable.
4. Insurance and security
Safety is a significant consideration. Some types of cleaning can come with risks, such as window cleaning or working at heights. It's important that, in case of any injury or accident, your cleaners are appropriately insured. This information may be included in the quote documentation. If it isn't, you should ask just to be sure that proper insurances are in place.
The safety of your property and belongings is also important. Any professional cleaning company should have a security vetting process in place for all of their staff. If there is no information about security procedures on their website, be sure to ask about it.
5. Reputation
This is not something that can be captured on a commercial cleaning quote, but it is an important piece of background research for you to do. It's a good idea to ask for recommendations first from family, friends, or associates who have hired cleaning companies previously.
It's quite easy to find reviews and testimonials about businesses online. The Internet and social media are full of business recommendations, making it a great place to see what previous and existing customers think of different companies.
Most businesses will have a testimonials section on their website, or you can look them up on Facebook to find reviews from the public. Real reviews are good indicators of the standard of cleaning each company provides and also if customer service is set to a high standard.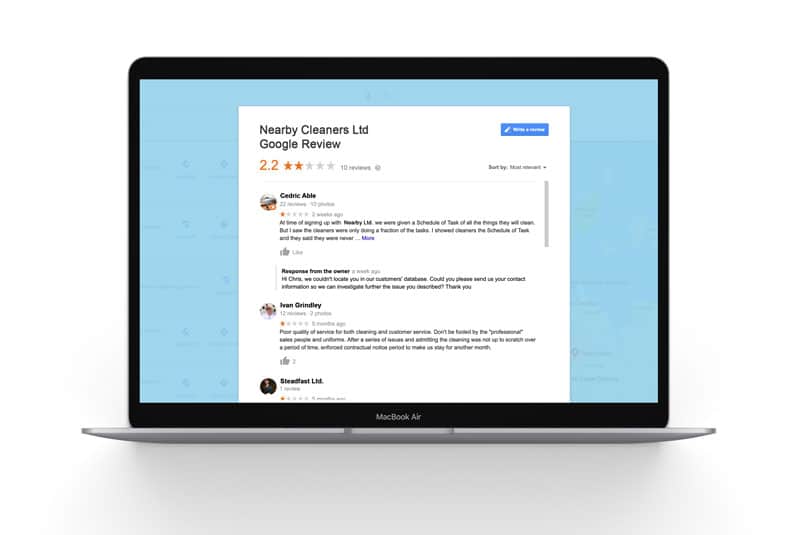 If you're a business owner, don't hesitate to get in touch with us at Crewcare. Our cleaning crew provides efficient and reliable cleaning services for offices, schools, restaurants, cafes, and bars, as well as expert carpet and floor cleaning services. Our employees are all qualified and security vetted, and we are committed to sustainable cleaning practices. Call us on 0800 800 209 or visit us online for your free quote!