Hard floors can become dirty, grimy, and dull over time. Even if you regularly sweep, vacuum and mop – hard flooring of all types loses quality and shine if it is not properly maintained. This is especially the case for floors that see a lot of foot traffic, for example in schools, offices, or cafes and restaurants. You might be considering replacing old and unattractive floors when really all they need is a thorough, professional cleaning and polishing!
A regular professional floor polishing service can prolong the life of your flooring and make it much more presentable for customers and clients. Professional floor polishing can be used on floors of all types including wood, concrete, marble, tiles, granite and vinyl/linoleum flooring.
Let's take a look at some of the main benefits of professional floor polishing:
Improve floor appearance via floor polishing
A dirty floor is not a good look for a business. It won't make a good first impression on clients and visitors, not to mention it could be unhealthy and unhygienic. Professional floor polishing removes dirt, scuff marks, and dullness. It restores the original shine to the floor surface and keeps rooms presentable and looking sparkly clean.
Scuff or scratch marks on hard floors can be a real eyesore. They might be from dark coloured shoes being scuffed along the floor, or it might be damage from attempting to clean them without the proper equipment (more on that later). In any case, a professional floor cleaning service can buff out many of the unsightly marks on floor surfaces and leave them looking like new again. Adding polish also protects from further scuffing and scratches.
Professional floor polishing can improve the overall look and feel of an entire room. A polished floor is very reflective and therefore will naturally increase brightness and illumination in a room. This enhances the natural light from windows and reduces reliance on extensive artificial lighting.
Use the right equipment and avoid damage
A major benefit of hiring a professional to clean and polish your floors is that they have the right equipment to do the job. Using cheap or incorrect equipment and products to polish floors yourself won't get you the quality clean that you desire. You could also actually cause damage to your floors and be even worse off than you were at the start!
Professional cleaners use an electric floor polisher that rotates a specially designed cleaning pad at high speeds. There are different cleaning pads for different types of flooring so that the correct abrasion level can be used. They will also use water and a pH-neutral cleaner.
Different floor materials also need different cleaning materials. A professional cleaner can select the right cleaning solutions and chemicals for your floor, to make sure they get the best clean without using anything too harsh for your floor. For example, marble is an expensive stone that is very reactive to particular cleaning products and great care should be taken when cleaning it. Professional cleaners have specialist knowledge and can ensure the proper care is taken, protecting your floors from any damage.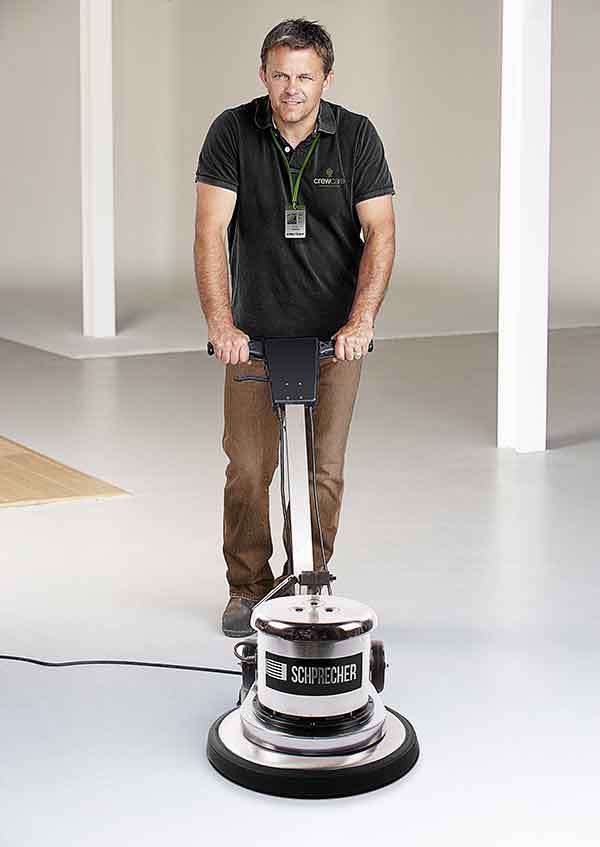 Convenient and cost-effective
When you consider the time and effort that would go into DIY-ing your floor polishing, professional floor polishing is really worth the investment. You don't need to spend the money on materials and equipment or spend time researching tutorials and learning DIY techniques. Plus, as we have discussed, there is a significant risk to floors if cleaning and polishing are not done correctly. So you are also saving yourself potential costs from damaging floors and having to repair or replace them.
Professional floor polishers will bring all of their gear to your location, and take it all away again when they leave. This means you don't have anything to clean up or dispose of after, and you don't have to store bulky cleaning equipment anywhere on your premises.
Talk to Crewcare!
Crewcare can take care of all of your hard floor polishing needs. We understand that every flooring type is unique, and we take the time to use the correct and most careful cleaning method for your floors. Not only will this give the best cleaning and polishing result, but it will also protect your floors from damage or wear and tear.
Our staff members are highly trained and are well supervised and supported. We will never sub-contract services to other providers because we believe that no one can do the job better than us!
We use sustainable, eco-friendly cleaning practices and will tailor our services to your needs. Our floor polishing services include wooden, concrete, and vinyl flooring. We can also help with floor stripping and sealing to give your floors the full Crewcare treatment! So get in touch with us today to find out how we can help, and to get a free quote.