Due to the current uncertain economic landscape and an increase in interest in flexible working, many people are looking at self-employment opportunities. Many industries offer such opportunities, but commercial cleaning franchises remain one of the most successful and most viable business options.
In this update, we take a look at why commercial cleaning franchises are so favourable, and how you can become a franchise owner.
Benefits of a commercial cleaning franchise
Low start-up costs
Most businesses require some upfront investment and commercial cleaning is no different. However, the costs are very reasonable compared to other industries and they go towards tangible things such as cleaning products, licences, permits, and advertising.
These low start-up investments mean that getting into the commercial cleaning industry as a franchisee is very accessible and comes with little risk.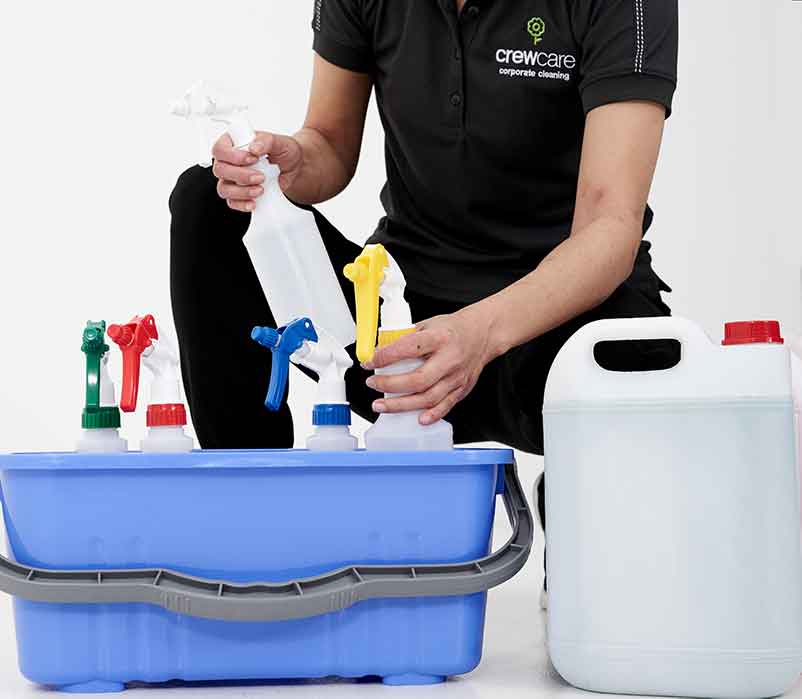 An in-demand industry
Commercial cleaning is always going to be in high demand. More and more buildings are constructed in CBDs throughout the country every month. Large office and commercial spaces are too big and costly for a business to provide and store their own cleaning supplies, and employ their own cleaners. Outsourcing this to third parties is a cost-effective and efficient option that the majority of big businesses buy in to.
This also means that when you become a franchisee with a commercial cleaning company, you don't have to wait around for the work to come in. Due to the number of businesses wanting commercial cleaners, you will very likely already have a pool of clients awaiting your services! This means you won't be spending large amounts of time with no or little income – which is a challenge for most other new businesses.
Another unique characteristic of this industry is that it is at significantly lower risk of being outdated by technology. There have certainly been some cool developments in commercial cleaning technology over recent decades, such as telescopic water poles and window cleaning robots – but by and large, the work needs to be done by human hands. This means you don't have to worry about your job being outsourced overseas, or being replaced by a computer!
Training is available
The majority of commercial cleaning companies will offer thorough training and ongoing support to all new franchisees and staff. This will also include business, sales, and customer service training. There is a huge range of information available online, and in Aotearoa New Zealand you can also join the E tū union for public and commercial services, who can help with employment information and advocacy services.
Step to finding your franchise
Do your industry research
Before you make any significant investment in a new business, you need to do your background research. Particularly if this is an all-new area for you and you aren't super familiar with the industry you are going in to. Thankfully, the Internet has all the information right at your fingertips!
You'll want to look at recent statistics and trends in the commercial cleaning industry so that you know the types of services and newest technologies, and you are familiar with what competitor businesses are doing in the market.
The commercial cleaning industry is worth over $100 billion and is continuing to trend upwards. Becoming a franchisee in a franchise program with a well-established company provides you with a secure and profitable business model, which has low overhead costs, a consistent demand and good opportunities for development.
Explore the local options
Find franchises for sale in your local area. Ideally, you'll be able to meet and talk to the company representatives in person so that you can cover all the necessary details and be sure that everything is legitimate. Bonus points if the company is locally owned!
Get in touch
Once you have found your preferred franchise/s, reach out and set up some meetings. There will be a lot of new information to take in and a lot of different paperwork, so take your time and seek independent business or legal advice when you need it.
Once you have selected your chosen franchise, there will be other administrative tasks to take care of, such as registering your new company.
The finishing touches
… And then you're ready to go! You'll need to get underway with training and purchasing tools and products. Depending on which systems you'd like to use in your business, you'll also set up some accounting software and time tracking, or you might connect with a bookkeeper or accountant. You can start on your own or, if you have enough clients, hire 1 or 2 employees to get the ball rolling.
CHOOSE CREWCARE
If you are looking for a commercial cleaning franchise opportunity in Aotearoa New Zealand, Crewcare is the perfect choice. We are a recognised and trusted New Zealand brand with over 25 years of experience in franchise services.
We have various franchise packages available and can tailor them to you, including full training and instant connections with clients. Get in touch with us today to find out more.