Blogs are some of the most helpful online resources around. If you need advice for anything, be it computer troubleshooting tips or easy recipes for Sunday lunch, you can probably find a blog about it.
What's even better is that you have access to these thousands of blogs from all over the world. With people from different locations and cultures, you'll learn so many more things and gain plenty of insights.
That said, if you're looking for cleaning blogs to follow, you're in luck. Cleaning is a popular topic among bloggers (and vloggers) and you can even find sites for specific aspects of cleaning. Here are some of the best ones:
Crewcare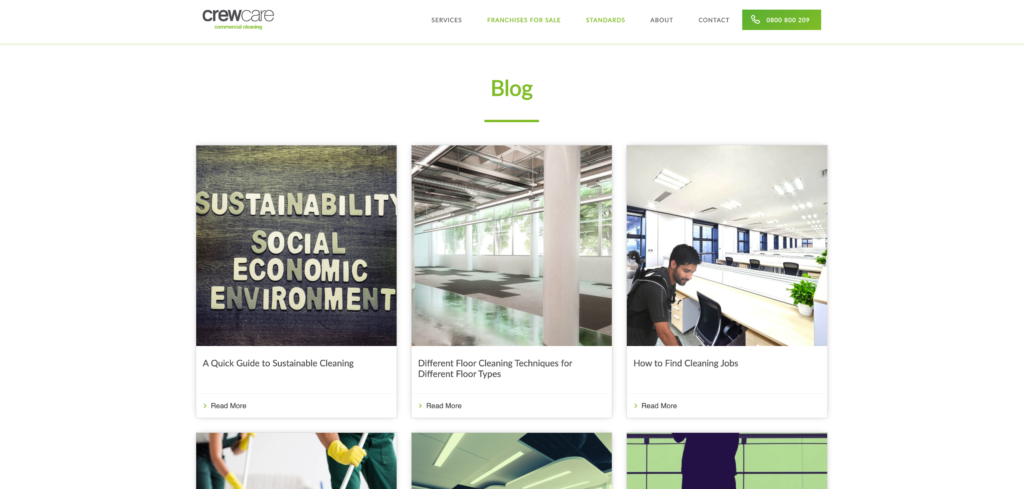 Let's start off the list with something close to home: Crewcare's commercial cleaning company blog. Why should you follow it? Because we have decades of experience in commercial cleaning! After all, when in doubt, it's always best to ask advice from the experts.
Commercial cleaners, particularly those that have been in the industry for years, can share plenty of insider tips and tricks to get the best results. It doesn't matter if you're cleaning an apartment or a wide-open warehouse-type office. A commercial cleaning company can help you keep every kind of space clean. You may even discover more efficient methods and eco-friendly alternatives.
The Tidy Lady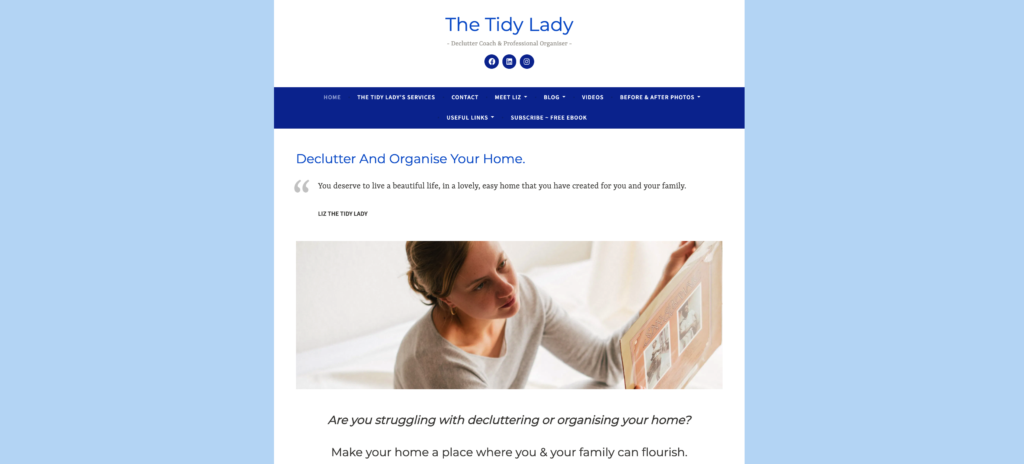 Do you sometimes feel as if your space remains dirty even if you've already cleaned it from top to bottom? You may not be dealing with dirt and grime, but rather years of accumulated clutter. If this is the case, then you may need help with decluttering and organising.
Enter, The Tidy Lady. A declutter coach and professional organiser, Liz the Tidy Lady can help you sort out your wardrobe, downsize your belongings, and keep every room in the house neat and clean. Without the clutter, cleaning becomes so much easier because there are fewer things that attract dust and dirt.
The blog also features tips on how to efficiently move houses, organise your kitchen, and maximise your space for storage. The result is an orderly space that brings you joy and peace of mind.
Ask Anna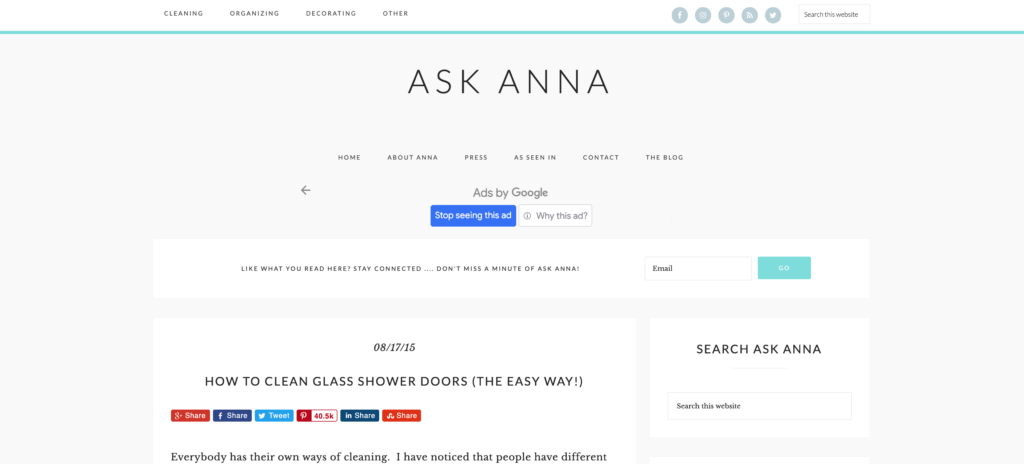 With two daughters, a dog, and a cat at home, Anna Moseley and her husband have had to find less time-consuming but still effective ways to keep their space clean and their home in order. The blog Ask Anna started simple, with some cleaning tips based on experience, and has since grown over the years.
Anna has now been blogging about her journey for close to a decade, sharing cleaning tips with her readers the world over. Ask Anna also has several tips for organising, decorating, cooking, and more.
Clean Mama
Clean Mama is all about simple, hassle-free ways to keep your home clean. The techniques are organised per room, with each room having an individual list of tasks and required supplies. What's great is that the recommended cleaning supplies aren't just affordable, but also all-natural and non-toxic.
The blog also features what is called the Clean Mama routine, composed of four parts: daily tasks, weekly tasks, rotating tasks, and monthly focus. These are designed to help make cleaning and organising so much easier and even enjoyable. There's also an on-site store, which features books, printables, as well as cleaning and organising supplies.
Apartment Therapy
https://www.apartmenttherapy.com/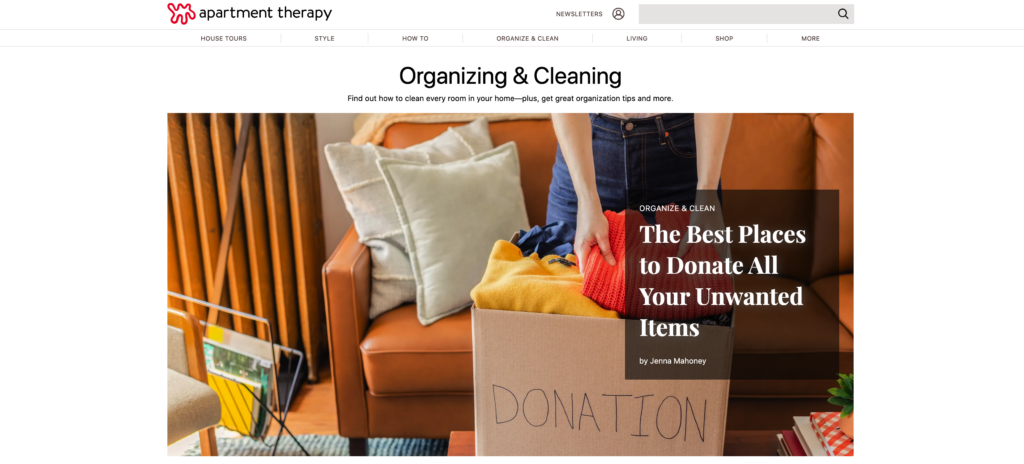 Cleaning is often associated with women. Maxwell Ryan of Apartment Therapy breaks that stereotype and then some. It gives a fresh perspective to tidying up space, looking at the task from behind the lens of interior design. After all, cleaning and organising are all about making your space look good.
Aside from decluttering and organisation, Apartment Therapy also offers tips about cleaning supplies, the best routines, and advice about making the most out of every square metre of your living space or office. There are also design tips and styling advice, as well as house tours to inspire and motivate you to decorate.
Other Notable Blogs
A Bowl Full of Lemons
http://www.abowlfulloflemons.net/
A Bowl Full of Lemons brings a zesty (pun intended) take on cleaning and organising a home. The writing approach is friendly and simple, like a group of friends encouraging you to keep up the good work.
The blog is full of tips and advice for organising, cleaning, and even budgeting. They also have three books about home cleaning, organisation, and emergency preparedness. As a bonus, A Bowl Full of Lemons is also a visual treat with its beautifully shot photos.
The Queen of Clean
The Queen of Clean is one of the earliest housekeeping blogs and has maintained its status through the years. Linda Cobb, the woman behind the Queen of Clean, is a celebrity in her own right, with books, TV appearances, lectures, and a TV show under her belt (or crown).
The tips you'll find in the Queen of Clean blog are both straightforward and eye-opening. More often than not, you'll realise you've been cleaning things the wrong way or else not cleaning things that you're supposed to. In addition, the Queen of Clean also encourages resourcefulness. There are plenty of tutorials on how to make your own cleaning supplies (even if she also has her own line of products).
Linda Cobb also regularly appears on talk shows, radio programs, and on social media. Her Facebook segment "Stump the Queen" gives the audience an opportunity to ask questions related to cleaning.
Perfect Clean
https://www.perfectcleanltd.co.uk/news/
Perfect Clean is a professional cleaning company based in Edinburgh, UK. Their cleaning blog covers anything and everything about cleaning, from how to clean up blood stains to decluttering tips, and they also provide handy easy to implement checklists, such as an office cleaning checklist. What's more, they also give advice on how to find, hire and manage a cleaning contractor for your business.
Readers can expect practical, actionable expert cleaning tips based on their years of professional experience working in the commercial cleaning sector.
Best Cleaner Adviser
https://bestcleaneradviser.com/
Best Cleaner Adviser is a website that provides advice on the best cleaning tools and equipment for any situation. It helps you find all information about what to look for in a cleaning tool, how to find them and gives recommendations of the best options in the market. Choosing the right professional equipment can be difficult because there are so many out there who claim they do the tasks they're designed for perfectly.
Happy reading and happy cleaning!